SCROLL DOWN FOR PROFESSIONAL COMMENTARY FEATURED ON LOCAL AND NATIONAL TELEVISION
Mr. Tucker joined a panel to debate U.S. health care policy and more on the nationally syndicated TV/Radio show "Beyond the Beltway with Bruce Dumont' from the Museum of Broadcasting in Chicago – 7/30/2017 and 7/02/2017.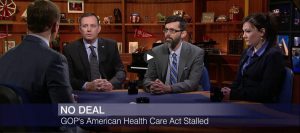 Mr. Tucker joins a panel on WTTW's "Chicago Tonight" to discuss the "American Health Care Act" –  3/23/2017
C. Steven Tucker debates U.S. Congressman Luis Gutierrez on ABC7 Windy City Live in Chicago 10/14/13.
C. Steven Tucker on the real cost of Obamacare for the Fox Business television network. 9/30/13
C. Steven Tucker on the Fox Business television network 3/28/2012
Click here to read how Mr. Tucker helped a man with cancer get his health insurance policy reinstated after it was cancelled because of Obamacare. Watch the story below as told on the Emmy award winning TV show "Facing Life Head On".