SCROLL DOWN FOR PROFESSIONAL COMMENTARY FEATURED ON LOCAL AND NATIONAL TELEVISION
Mr. Tucker joined Illinois' 6th congressional district candidate for U.S. congress Jeanne Ives to discuss the proper role of government in the health insurance marketplace post Obamacare and Covid-19. – 4/29/2020

Mr. Tucker joined Chicago's Morning Answer's Dan Proft and Amy Jacobson to discuss your options if you are furloughed or lose your job
and with it your health insurance. – 04/13/2020
Mr. Tucker joined Chicago's Morning Answer's Dan Proft and Amy Jacobson to discuss the Republican Study Committee's new health care plan.
"The best plan he has EVER read." – 11/01/2019
Mr. Tucker joined attorney Steven Leahy and Jim Leahy on Chicago's Am560TheAnswer to discuss ACA (Obamacare) open enrollment, Short Term health insurance, Medicare and how doing the right thing can sometimes get you in really BIG trouble. – 10/11/2019.
Mr. Tucker joined a panel to debate U.S. health care policy and more on the nationally syndicated TV/Radio show "Beyond the Beltway with Bruce Dumont' from the Museum of Broadcasting in Chicago – 7/30/2017 and 7/02/2017.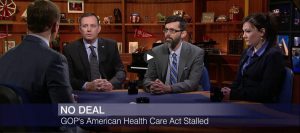 Mr. Tucker joins a panel on WTTW's "Chicago Tonight" to discuss the "American Health Care Act" –  3/23/2017
Click here to read how Mr. Tucker helped a man with cancer get his health insurance policy reinstated after it was cancelled because of Obamacare. Watch the story below as told on the Emmy award winning TV show "Facing Life Head On". 
C. Steven Tucker debates U.S. Congressman Luis Gutierrez on ABC7 Windy City Live in Chicago 10/14/13.
C. Steven Tucker on the real cost of Obamacare for the Fox Business television network. 9/30/13
C. Steven Tucker on the Fox Business television network 3/28/2012